Closed for the Holiday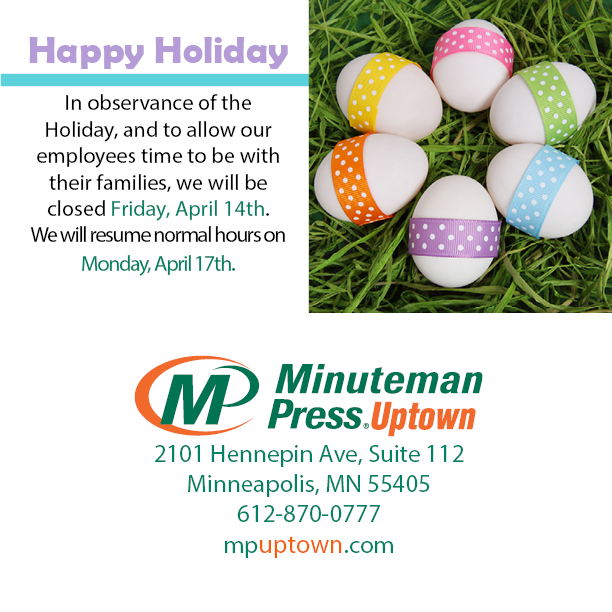 3 Tips for Sending Artwork to Your Print Shop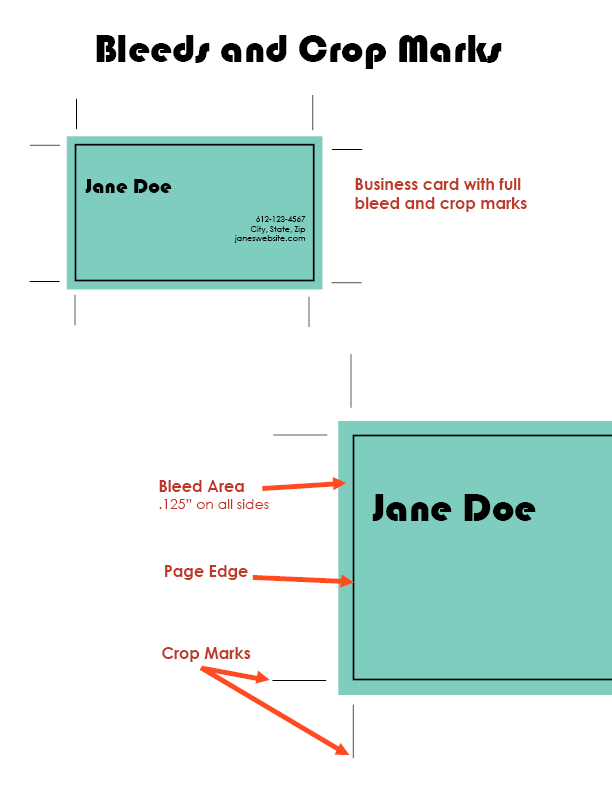 So you've designed a business card, brochure, or file that needs to be sent off to the printer. How do you know if it's "print-ready"? Here are the top three tips when sending a file to the printer.
Have a high resolution file. If you're printing graphic images, make sure that they're either an EPS, AI, or high-res. PDF file. If you're printing an image like a photo, make sure that it is 300 ppi. If your image has a lower resolution it will look pixelated and unprofessional.
Add bleeds and crop marks. A document needs to have crop marks to indicate where the paper needs to be cut. If the document has color that goes all the way to the edge, the color needs to extend beyond the crop marks to avoid having any white border when it is cut down.
Proof your work! There is nothing more disappointing than printing a business card and discovering the phone number is incorrect, or your name was spelled wrong. Proof your work!
These are a few helpful tips to guarantee that you will the best results possible. After all, the printing portion is just as important as the designing process!
Woof!
-Stella
3 Benefits of Offset Printing

When printing you have many choices, but one of the most common is digital or offset. Well we live in the digital age, so of course we'd go digital. Right? There are actually some times when offset is the better choice. Let's discuss a few.
Color Matching: If you have a logo that you need to print the same every time, offset is the way to go. Digital printing can be unpredictable, but offset gives you color consistency.

High Quality: Since offset uses ink instead of toner, you have finer lines and richer colors.

Cost Effective on Higher Quantities: If you are doing large runs like envelopes, offset can save you a lot of money. The cost of the plate is the same, whether you're doing 1 or 1,000. So the more you print, the better the price per piece.
These are a few examples of when it's good to go offset. Digital is catching up in quality, but in some cases offset reigns supreme.
Woof!                 
-Stella
We Print Our Values!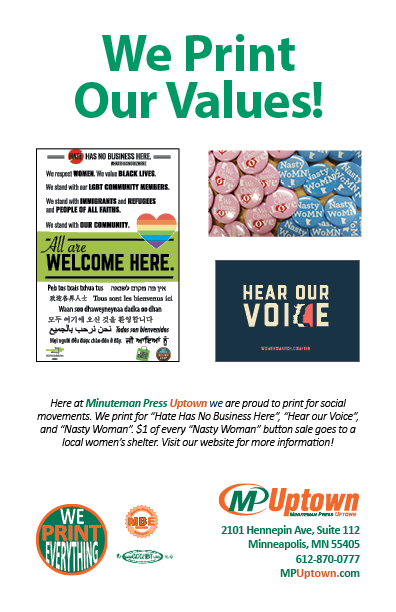 Three Reasons to Use Your Local Printer

Faster turnaround times: When working with a local printer you don't have to spend as much time waiting for your order. You also don't have to worry about extra shipping time. You can pick up the job when it's done.
Support your local economy: Keeping your printing local will help your community. When people see your printed materials it can benefit you and your local printer, while still getting quality results.
Build meaningful relationships: Having a printer you can trust is a big deal. You'll be able to check the quality of your work and be confident that they can handle your orders in the future. Building a good relationship with your printer is everything.
These are just some of the reasons why it's great to use your local printer. You'll fast turnaround times, support your local economy, and build relationships. So go down and see them!
Woof!
-Stella
Women's March Signs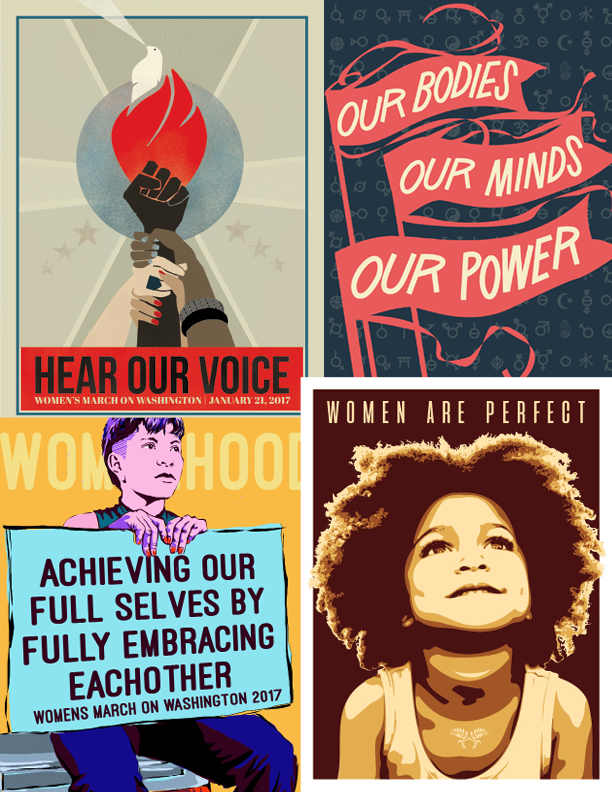 We are printing signs for the Women's March. Let us know if you're interested. 
Happy New Year!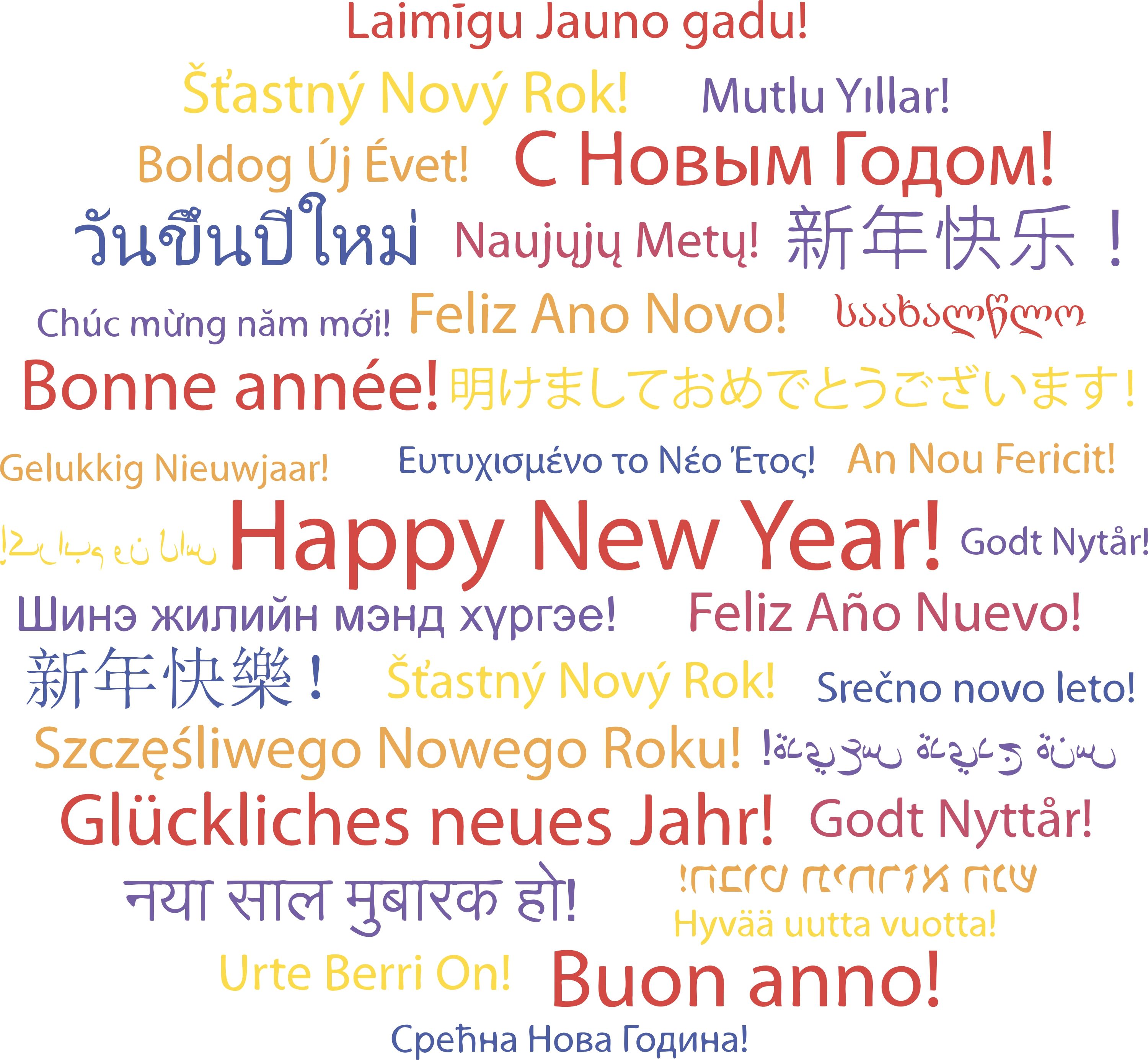 Happy New Year to everyone! We're wishing you a happy, safe, and productive 2017. Let us help you grow your business with any printing needs this year. Woof!
Happy Holidays!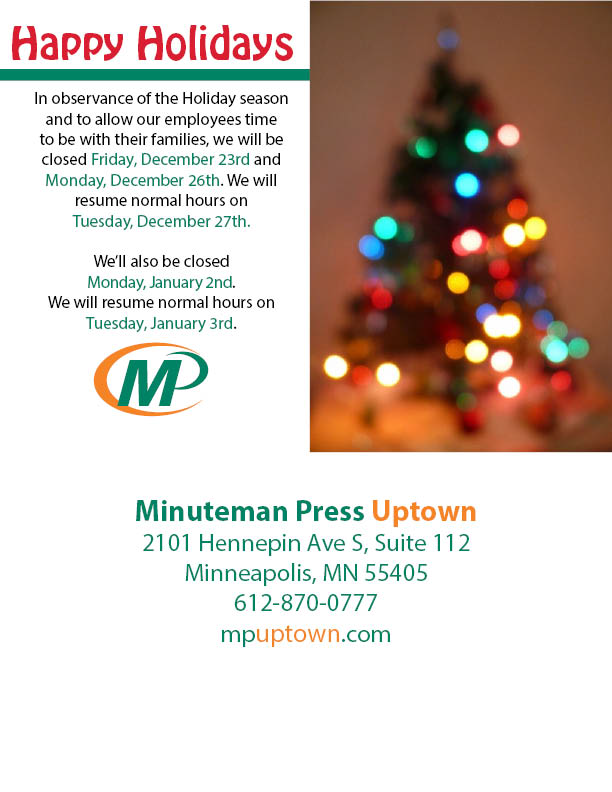 Season's greetings from MP Uptown. We will be closed for a few days to let our employees enjoy the holidays with their families. Happy Holidays! Woof!
5 Simple Holiday Gift Ideas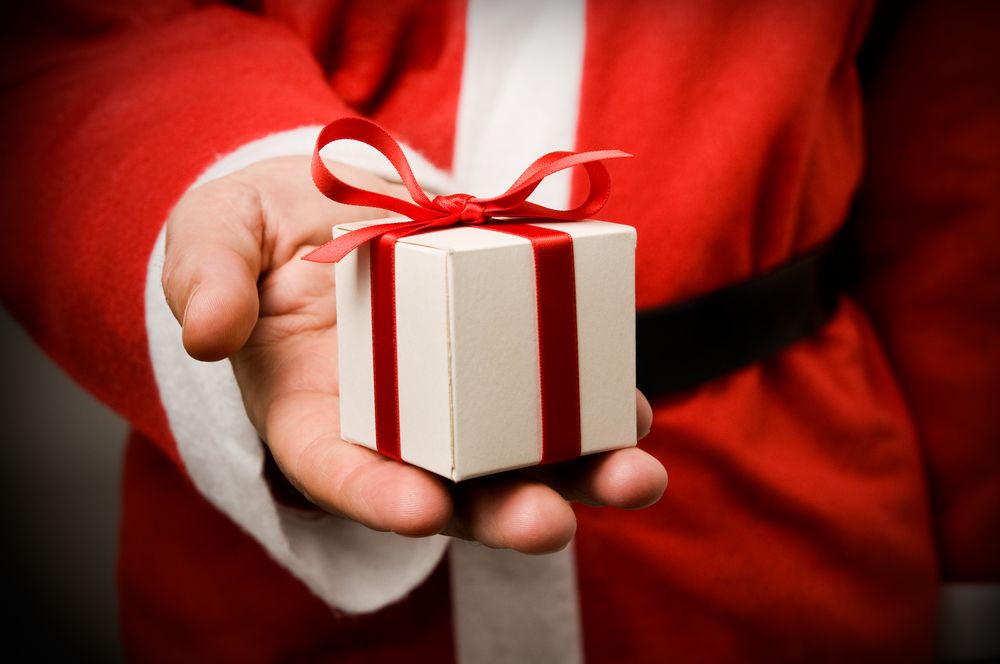 Do you have people on your list who you have no idea what to get? Perhaps you don't know them very well. Maybe they already have everything. Or maybe you're just out of ideas. Here are some simple ideas for those tricky people in your life.
1. Calendars- Everyone could use a calendar. Yes, we have them on our phone and computers, but it's nice to have something hanging on the wall to remind you of what's coming up. Now, you could get someone a calendar of their favorite TV show, or beautiful National Parks across America, or you could go all out and personalize a calendar. Make one of your own and have your local print shop put it together for you. (Minuteman Press Uptown, cough cough)
2. Holiday Cards- Holiday cards are an easy way to show someone that you're thinking about them. Send them a nice "Happy Holidays" message from a beautifully designed card. You can personalize these as well. Send a pic of your family on vacation, your adorable dog, or a group shot in your favorite ugly sweaters. Have fun with it!
3. Picture frames- These are one of my favorite gifts to give people. You really don't have to know much about someone to know that they could use one of these. Encourage your friends to print out pictures instead of just using Instagram. Give one to grandma so she knows what you're up to. Send it to your boss with a picture of you so they remember you when raises are being discussed. It's an easy gift!
4. Mugs- Name someone who doesn't drink coffee. You can't! This is another item where you can buy a nice one off the shelf or personalize with a photo of you and your friends. Your local print shop can make it happen. (Again, Minuteman Press Uptown, cough cough)
5. Cookies- Do I even need to explain this one? Everyone can enjoy cookies. Whether it's gluten free, vegan, low sugar, or just delicious buttery-goodness, there is a cookie for everyone. Besides, the holidays are a time to enjoy yourself and indulge. Guilt is what New Year's resolutions are for.
Hopefully this 5 Simple Holiday Gift Ideas helps you out. There are always those tricky people on your list who throw you off a little bit. If you have can get a little creative, simple gifts can be fun and memorable.  
Woof!
-Stella
5 Ways a Print Shop Can Help Your Holiday Season
The holidays are just around the corner. Not only is it the season of giving and being with your family, but it's also the time when businesses go from red to black. Ahhh yes………. Black Friday is coming! As a business owner, how do you prepare for the upcoming holiday madness? Here are 5 ways that a print shop can help you ease into your fourth quarter.
Flyers- Let people know that you're having an event. Whether you hand these out in the street or send them through the mail, this will let your customers know that you're the place to be on Black Friday.
Coupons- Make the customer feel special! Let them know that they hold the secret to savings in the palm of their hands with a beautifully printed coupon.
Sales Signs- Help lead the customer to the greatest bargain of their life with your sales signs. Placed on the tops of racks, on tables, or around your store.
Decorative banners and backdrops- Enhance the holiday atmosphere by showcasing your stunning holiday graphics with a glorious banner or backdrop.
QR codes- Boost your online sales and connect with your cyber shoppers by handing out QR codes that can direct them to your website.
These are just a few ideas to make your business more profitable through printing. You're only limited by your imagination. 
Woof!
-Stella
Shop Your Values
We are Minuteman Press Uptown are excited to participate in the Main Street Alliance Shop Your Values holiday map and website this holiday season, featuring businesses who care about racial and economic justice in MN.  Businesses can join here:   https://docs.google.com/forms/d/e/1FAIpQLSfDGgshWGJLdxwhUFglcR9RieeTT56s4izTNwo6d7_wQkJ3DA/viewform
Woof!
-Stella